ACADEMY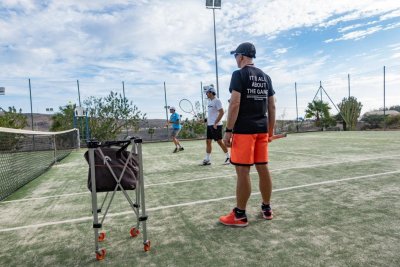 How do you take the step from being a good player to becoming a great player?
The model is a modern player development program based and developed upon the experience and knowledge of international tennis.
Factors in Academy program:
– Number of training hours
– The player's character and how training    should be constructed individually
– Development in different ages
– The Development plan
– The coach's task and what defines a good coach
– The training
– Drills to develp modern tennis player
– Effective training
We are training and focusing on the individual person. 
Important developments points
- Good attitude for tennis
–Possibilities to play a lot of tennis
– Long term view instead of focus on short term  results
– Good and different sparring
– Specialists in all areas
ANNUAL PROGRAM:
Included in the annual program (August - June):

-Full-time program from compulsory school all the way up to professional level.
-Tennis: Monday-Friday 2 passes per day and Saturdays 1 pass
-Individual group training with group instructor Monday-Saturday
-Development meeting with PT once a month.
-PT pass available 1-2 hours a day
-Development plan and competition planning.
-Coaches attend competitions. Players share the coach's overheads
-Food: Breakfast, lunch and dinner
-Medical support and rehab is possible in area.
-Gym: Access to the gym
-Support from school every week

Price: 19900€ per year
including training , food and (school for Swedish students)

*** The registration fee of 10% will not be refunded in case of any obstacle
*** Monthly payment is also available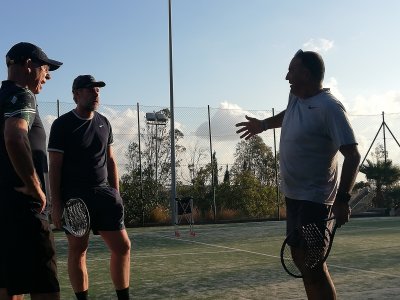 WEEKLY PROGRAM:
Come and work hard  with Swedish Tennis Academy coaches and players!
We run the Weekly Program from Monday to Saturday.
Program all throughout the year. Every age and level are welcome at our academy. We can adapt our method to every need of a player by customizing the hours and schedule of the tennis and physical training while they attend our program.  

Normally attending our weekly program players will receive tennis practice and fitness in daily basis from Monday to Friday. On Saturdays we assign the players for match play. Coaches is highly involved on court on a daily basis and they following the player's progress. A technical report is given to the players at the end of the week.
Included in the Weekly Program:

-Tennis: Monday - Friday 2 passes / day and Saturday 1 pass
-fysical training in groups with different predetermined themes (general strength, specific strength, fitness, agility, mobility etc.) Monday - Friday
-Feedback from the trainer before and after the visit
-Medical support and rehab is possible in the area.
-Gym: Access to gym
-Possibility to upgrade the group fysical training to private PT pass ((booked before) 
-Possibility to upgrade with more personal options.

Price: 260€-750€ per week

Addition:
Food: Breakfast, lunch and dinner

Price: €_____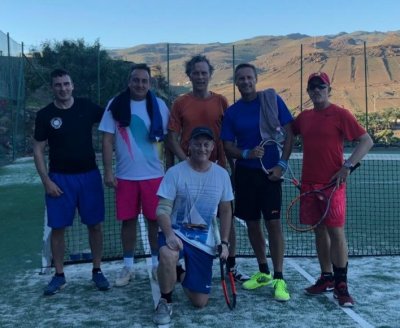 DAILY PROGRAM:
Come and work hard with Swedish Tennis Academy coaches and players!
We run the Daily Program from Monday to Friday, choose one or more of these days.

Included in the Daily Program:

-Tennis: 2 passes per day
-Fysical group training: 1 pass per day
-Food: Lunch included
-Possibility of medical support and rehab in the area.
-Gym: Access to gym

Price: €120 per day incl. Lunch
CUSTOMIZED PROGRAM:
We offer personalized training for every age and level. The academy can adapt to fullfill the needs of the player by offering different options to choose from. 
HOLIDAY PROGRAM:
Here  you can combine a memorable vacation with great tennis training. This program is based on individual or group lessons.
Recommendation of accommodation
Montefeliz 3*
Orquídea 4*
TresVidas 4*
LasPitas 4*
 REGULAR TENNISSCHOOL

 Adults/children
 All year around
 Max. 4 players/group/all ages
Regular Tennisschool delivering comprehensive, highly personalized coaching to players committed to their tennis development. We provide friendly and warm environment, but at the same time passionate and full of enthusiasm, with people coming from many different countries. The important thing for us is to offer quality training, but without forgetting that our players first must find their passion for the game. Therefore, fun and favorable working environment should intertwine perfectly with high demands and professionalism.
MINITENNIS
Age: 6-8years  
Number of hours / week: 1 hour
Training: Should focus on learning the tennis grounds in fun and playful shapes. "Play and stay program"
Theme: Warming up program
TENNIS SCHOOL 1
Age: 8years->
Number of hours per week: 1 hour
Training: Basic, but focuses mostly on the forehand and backhand, more superficially in
the other classes. "Play and stay program up to 10 years old"
Theme: Warm up, stretching, physical treatment, how to compete, count in tennis
TENNIS SCHOOL 2
Age: 8years->  
Number of hours per week: 2 hours. (1 hour per day)
Training: Basic with a focus on more advanced tennis training than tennisschool 1,
"Play and stay program up to 10 years old"
Theme: stretching, physical training,psychological training
TENNIS SCHOOL 3
Age: 9 years-> 
Number of hours per week: 3hours.( 1 hour per day)
Objective: To players to become more independent tennis players and make and the things needed
on and off the track
Theme: Becoming an independent tennis player
TOURNAMENT GROUPS 
Age: 10yrs->  
Number of hours per week: 3-6 hours . 1 to 2 hours per day.
Objective: Being able to play a little bigger competitions
Theme: Be his own coach,Exercise: Tactics, strategy,tournament games
Criteria for selection to theTournamentgroup :                                                                                                           
Talents, General presence., Exercise,Motivation,Power-on and off the track, Ambitions, goals. Physical training, testing, Contest Participation,Cooperation with juniors and coaches, Competition, General tennis interest,
Club Esteem, Training: at least 3 hours a week, Ideally 5-7 hours including two hours with no coach, Mandatory physical training
ADULT COURSES 
Age: Senior  
Number of hours per week: 1 hour or 2 hours per week. (1 hour per day)
All training adopted to level of play
Objective: Practice the flaws in the game
Theme: Create satisfaction and fellowship with good tennis development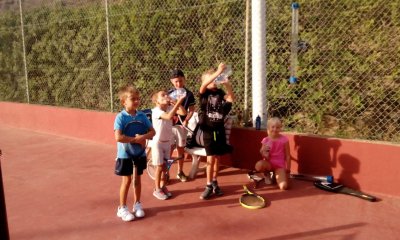 LOCATION
Bahía Féliz, San Agustín, Puerto Rico
PRICES
1 hour/week    40€/month
2 hours/week  80€/month 
3 hours/week  120€/month
4 hours/week  160€/month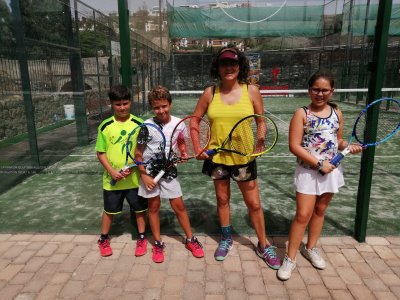 OBSERVATIONS 
Fee
Normally, if your own obstacles, rain,sickness or the like fall due, this will refer to things that we can not influence on the monthly fee.
Refers to the influence of sickness of trainer or relocation of hours that do not work or the like, we intend to replace by deducting the tax next month or replacing with compensation hours if this is possible.
The monthly fee is not calculated for 4times when the customer receives some months 5 times, so the fee is for monthly.
The fee for tennisschool always should be payed in advance in the beginning of the month
No training
We following the National holidays, bank holidays and similar. No compensation for this days.