Lesson

PRIVATE LESSONS
So, are private tennis lessons worth it? Yes, whether you are a beginner, intermediate or advanced player, a private tennis coach will always be able to help you improve some aspect of your game. It doesn't matter if you are a 3.0, 3.5, 4.0, 4.5 or 8.0
Private tennis lessons can always bring your game up a level.
The top players in the world are regularly coached and trying to improve different aspects of their game. Therefore there are undoubtedly things in your game that can be refined, and having a private tennis lesson can solve this issue. A coach can easily point out things you need to work on in order to bring your game to the next level. 
Furthermore, if you are playing at the club level regularly or are a beginner and wanting to develop basic solid groundstrokes, then having private tennis lessons is definitely worth it. It can fix any errors you have in your fundamentals and build new foundations. 
PRICES: Private lesson tennis South Gran Canaria:
1 person    30€/hour. (*35€)
2 persons   21€/hour/person (*22.50€)
3 persons  18€/hour/person
4 persons  15€/hour/person
(*Puerto Rico, Taurito, Meloneras,
Puerto Mogán)
Prices included court,coach,balls,rackets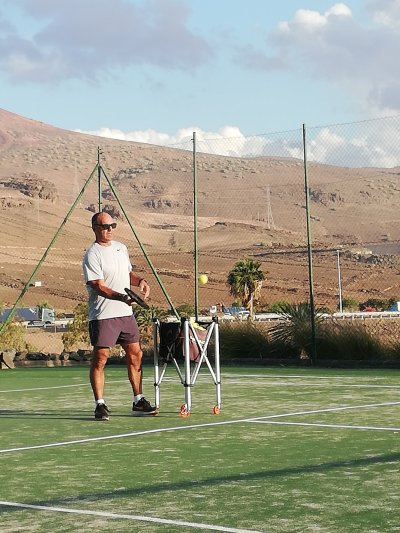 HITTING PARTNERS /SESSION
If you cannot find someone to play with, we try to find a hitting partner at a similar level as you. It is important to have regular hitting session with a hitting partner to have real match situations played out.
The truth about how good your groundstrokes and how good you are as an overall tennis player come out in these situations.
Price per hour: 20€ include the tennis court and balls.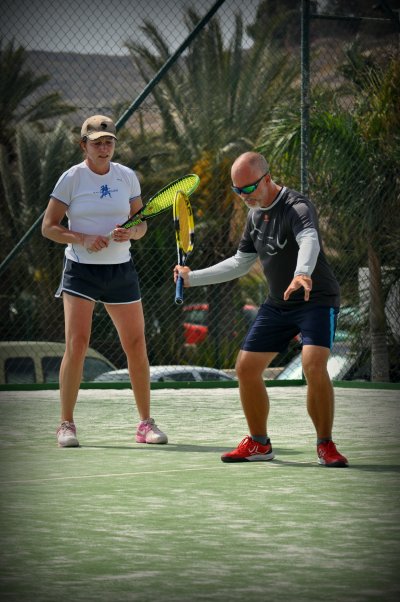 INTENSIVE GROUP TRAINING 
(max. 4 people, 2-4h every day)
3-7 days with tennis and mental exercise where you get to test your new skills in fun exercises.
We are going on these days to provide simple tools for your technique and become mentally tougher for you to get to your next level. This is for beginners, amateurs, juniors and elite players who want to increase their capacity by developing its technology, physics and tactics.
Prices:
12 hours tennistraining and match situations. 345€ / pp
9 hours of tennis training and match situations. 260 € / pp
5 hours tennis training and match situations. 145 € / pp
3 hours tennis training and match situations. 90 € / pp
Examples of what we're working with:
Technology development .
Tactical construction  of the game.  
Mental conditions in different situations on the training / match
2 hours training in the morning
1,5 hours training/match in the afternoon
CLUBS AND BIG GROUPS
Min. 4 persons  Max. 24 persons
Prices and arrangements through quotation
INTENSIVE TRAINING
(1person)
Make a request for the right price.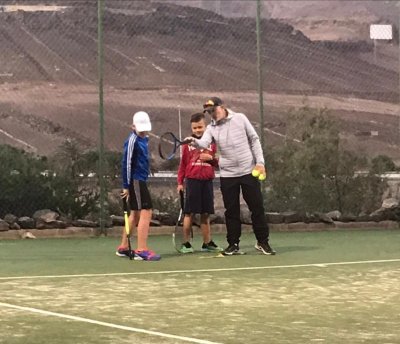 ABOUT BOOKING 
Reservation of tennis lessons:

Email reservation 

Contact

form

,

Calling

us (+34 618 509 490) 

Email reservations

 

must

be

confirmed by

us

when

the tennis courts

may be occupied

by other guests.

Booking lessons one day in advance or call us.

Cancellation of classes due not later than 24 hours before the lesson start

Payment: All training activities
Prepaid and non-refundable 50% in case of rain or illness

(

medical certificate).
 All training adapted to the level of play
PLAY ON
Find some tennisplayer to play or competition with at Swedish Tennis Academy when you living or visit GranCanaria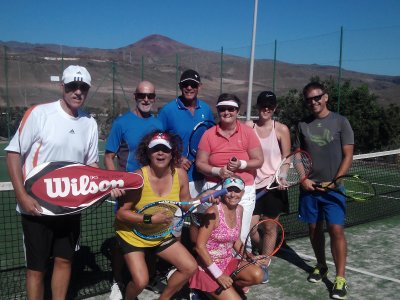 PLAY ON IN WEEK DAYS.
We arrange games for everyone who is interested Monday to Sunday with right level of players.
PLAY ON SATURDAYS.
This is a social game we arrange
EVERY Saturday 08.00-12.00 at Montefeliz in Bahiafeliz.
08.00-10.00 Single games
10.00-12.00 Double games
Random double / single partner and circulation matches.
(Open even for temporary players)
Price
6€/1h Single game/pp
6€/2h Double game/pp

(Regukar players charged last part of month, temporary guests pay each time)
CONFIRM your play. Latest 18.00 Thursday before on Academy WhatsApp .
To get in contact with responsible , use contact form under "contact us".
TRAINER/COACH EDUCATION
LEVEL 1
LEVEL 2
LEVEL 3
COURSE LEADERS
Juan Carlos Baguena 
ChristianLöfborg
LOCATION
Gran Canaria and Barcelona
Contact us for more information